Focusing on smart strategies
We use institutional-style risk management to help you protect what you've built and achieve more consistent returns.
At Oliver Wealth Management, we do more to help you protect and conservatively grow your assets.
Our financial planning and investment management programs are carefully linked. We work to protect the wealth you have already accumulated by thoroughly evaluating and minimizing the risks you face. Then we establish a plan for both preserving and growing your wealth so that you can move toward your most important financial goals.
Your Independent Advocate
As an independent firm, Oliver Wealth Management is under no obligation to recommend specific investments or financial products. As fiduciaries, our obligation is to you, our client.
Unlike many firms, we manage your investments with true open architecture. This allows us to work closely with you to build a portfolio unique to your requirements and free from conflicts of interest.
Putting the Odds in Your Favor
Many financial advisory firms invest your money passively and want you to simply buy and hold.  We don't agree with that approach.  Instead, we focus on risk control and gaining an advantage for you where we can:
We focus on preservation first, protect your money, so you can avoid the large losses that set people back
We favor conservative growth while controlling your downside risk
We help you understand the risks that you face
We'll look for opportunities to increase your return without additional risk through tax-efficient strategies
Advanced Harvesting Strategies
Wall Street focuses on asset accumulation, but what happens when you retire?  At that point, you switch to harvesting mode.
Your investment decisions now can make or break your future.  That's why we focus on smart strategies to help your money last.
Personalized and Low-Cost
At Oliver Wealth Management, we're fiduciaries, meaning we always put your interests first.  And we always look to give you an edge in your investments:
We don't use cookie-cutter models. Instead, your portfolio is fully customized to your needs.
We always choose low-cost investments so you can keep more of your money working for you.
Keeping You Informed
Your money is important, so we make sure you are kept up to date.  We schedule review meetings on a regular basis and whether that's face-to-face, over the phone, or virtually, we want to make your life easier. You can choose how much or how little you would like to like to be kept up to date.
And you'll have access to our Client Portal and financial planning tools, where you can get information and review your accounts and plans, at any time.
At Oliver Wealth Management we do more to help you protect and conservatively grow your assets.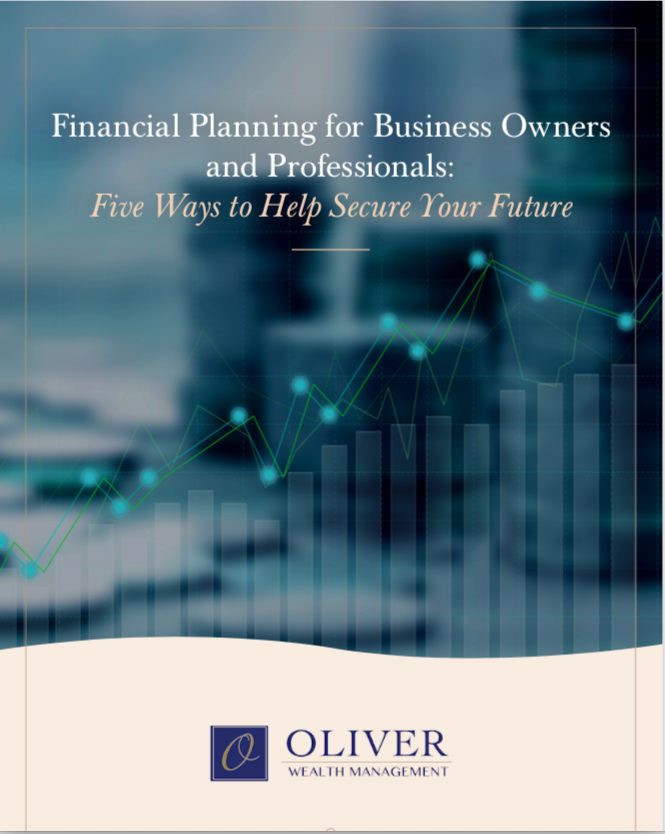 Complimentary eBook: Financial Planning for Business Owners & Professionals
Download this free guide which helps outline the necessary steps you can take to better prepare yourself for expected or unexpected life changes which can impact your financial well-being.